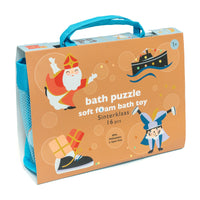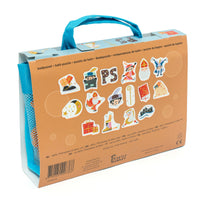 Sinterklaas is coming! Enjoy this fun bath puzzle including the book of Sinterklaas, Americo and... Lees meer
Order your bestellers from stock
Any questions? Mail us info@petitmonkey.com
Description
Sinterklaas is coming! Enjoy this fun bath puzzle including the book of Sinterklaas, Americo and his funny Pietjes, A soft foam puzzle for lots of fun during bathing time!
The puzzle contains 16 pieces. When wet they stick to the bathroom wall or bath.
Puzzle pieces are packed in a little bag that you can use to store them.
BPA and phthalates _ latex free
Not intended for teething.
1+ year
Illustrations by Viola Zwang / van Delft 
Specifications
Dimensions (CM)
23 x 17 x 4.5