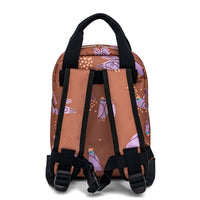 rPET backpack for toddlers and children up to 7 years. A two way up zipper... Lees meer
Order your bestellers from stock
Any questions? Mail us info@petitmonkey.com
Description
rPET backpack for toddlers and children up to 7 years. A two way up zipper for closing and a large sized pocket at front. Cotton look handles and adjustable padded shoulder straps to carry this backpack yourself. Also with adjustable closure on chest strap.
A perfect sized back pack for day care, primary school and for travelling.
For extra safety we added 3M reflective piping at front and sides.
It's a small planet so recycle! This backpack is sustainable, made of rPET. Plastic bottles are recycled, shredded and spun into yarn to weave fabric. A milky coating was added to give the rPet fabric a sturdy look and handfeel.
Packed in a polybag,
Illustration by Aniek Bartels
Specifications
Dimensions (CM)
29 x 20 x 10