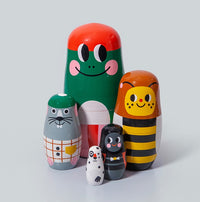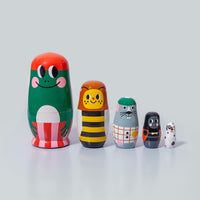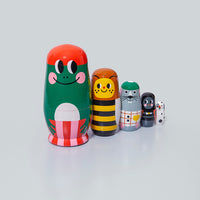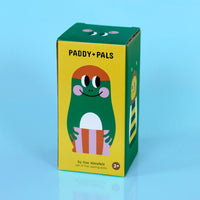 Meet Paddy & his Pals! The cutest little gang in town.
Paddy the frog, Miss bee,... Lees meer
Order your bestellers from stock
Any questions? Mail us info@petitmonkey.com
Description
Meet Paddy & his Pals! The cutest little gang in town.
Paddy the frog, Miss bee, Mister mouse, sweet ladybug and dalmatier the dog!
5 new nesting dolls to decorate a children's room.
These dolls are made of chinese hard wood, wood knots may occur due to the character of wood. They are painted and made by hand, that makes each doll unique. Small imperfections are unavoidable.
Size of the dolls:
14 x 6.5 cm
10 x 5 cm
7.5 x 4 cm
5.5 x 3 cm
3.5 x 1.8 cm

These nestings dolls are not a toy.
Packed in a printed box.

Specifications
Material
schime superba chinese hard wood